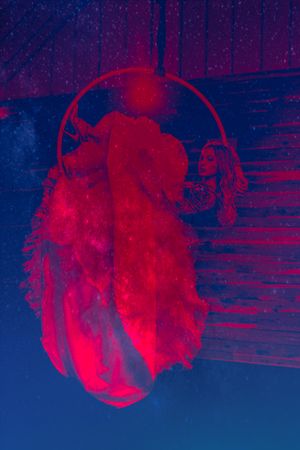 STORY
AWARD WINNING TEXAS-NATIVE AND NASHVILLE-BASED POP SINGER/SONGWRITER, ALICIA BEALE, EMBODIES A POWER AND RANGE THAT IS REMINISCENT OF CELINE DION, AND CAN EMOTE THE RAW SOULFULNESS OF FELLOW, PORT ARTHUR NATIVE, JANIS JOPLIN. 
ALICIA HAS FRONTED HUNDREDS OF SHOWS WHERE SHE HAS CAPTIVATED CROWDS ALL OVER MUSIC CITY AND NORTH AMERICA.  FROM 2008 TO 2010, SHE PAID FOR COLLEGE WITH A TIP JAR, BY PLAYING LATE NIGHTS DOWN ON LOWER BROADWAY IN NASHVILLE. 
BEALE WROTE, RECORDED, AND PROMOTED HER SOLO, DEBUT RECORD, IGNITE, WITH FRIEND AND PRODUCER, MIKE GOSSIN (GLORIANA).  IGNITE DRAWS ON INFLUENCES FROM EARLY YEARS LIKE: THE KING OF SOUL, OTIS REDDING; BLUES QUEEN, BONNIE RAITT; AND PERFORMER EXTRAORDINAIRE, FREDDY MERCURY, AS WELL AS CURRENT, POP TRAILBLAZERS LIKE BEBE REXHA, AND KATY PERRY.  SHE IS CURRENTLY WORKING ON HER SECOND SOLO PROJECT WITH NATE HEAD OF PALLET HOUSE, PLAYING WITH ELECTRONIC SOUNDS AND GETTING MORE PERSONAL IN CONTENT. 
IN 2010, HER SELF-PRODUCED EP, "STRONGER", QUICKLY CAUGHT THE ATTENTION OF GRAMMY-WINNING COUNTRY PRODUCER, GARTH FUNDIS.  BY THEN, BEALE HAD FOUNDED COUNTRY DUO, AUTUMN ROSE, THEIR SELF-TITLED EP (FUNDIS) RELEASED IN JUNE OF 2013.  IN 2014, SHE TOURED WITH ANGELO PETRAGLIA (KINGS OF LEON), AND HIS WIFE, EULENE, AS A BACKGROUND VOCALIST IN THEIR BAND, THE JANE SHERMANS. THEN, IN LATE FALL, SHE BEGAN CROWDFUNDING FOR HER SOLO PROJECT, IGNITE, WHERE SHE RAISED OVER $20K TO BRING LIFE TO HER LATEST RECORD.  
WHETHER IT'S THE FUN, DOMINEERING, POP ANTHEM OF "NEW FLING," FEATURING L.A.-BASED RAPPER, KRISTO REWLZ, OR THE COMPELLING CRY OF "BEAUTIFUL," BOASTING A CHOIR, BEALE PROVES SHE IS BOTH FUN AND FLIRTY, YET HAS EXPERIENTIAL GRAVITAS TO REACH IN AND PULL YOUR HEART OUT OF YOUR CHEST.  
ALL THE HUSTLING AND GRINDING IS PAYING OFF FOR THE SINGER.  HER BRAND NEW EP, IGNITE, WAS NOMINATED THIS PAST FALL FOR "BEST POP EP" AT THE 15TH ANNUAL INDEPENDENT MUSIC AWARDS.  HER SONG, "NEW FLING (FEAT. KRISTO REWLZ)", TOOK HOME "BEST POP SONG" AT THE IMAS IN NOVEMBER AT THE LINCOLN CENTER IN NEW YORK CITY.  
"THANKS TO ALL THE LOVE AND SUPPORT OF MY FANS FOR SHARING IN MY DREAM; I'M ABLE TO MAKE A LIVING DOING WHAT I LOVE, BUT ALSO MAKE A DIFFERENCE.  MUSIC HAS GIVEN ME A VOICE TO CELEBRATE SOME TRULY GREAT MOMENTS, AND HAS ALSO CARRIED ME THROUGH SOME OF MY DARKEST DAYS."   SHE SAYS, "I ALWAYS WANTED AN OLDER SISTER, SO I HOPE I CAN BE A VOICE AND INSPIRATION TO GIRLS, BOTH YOUNG AND OLD, THE WAY MY MUSICAL IDOLS WERE FOR ME."